The following message was sent to all students, faculty and staff on Tuesday, November 17, 2020.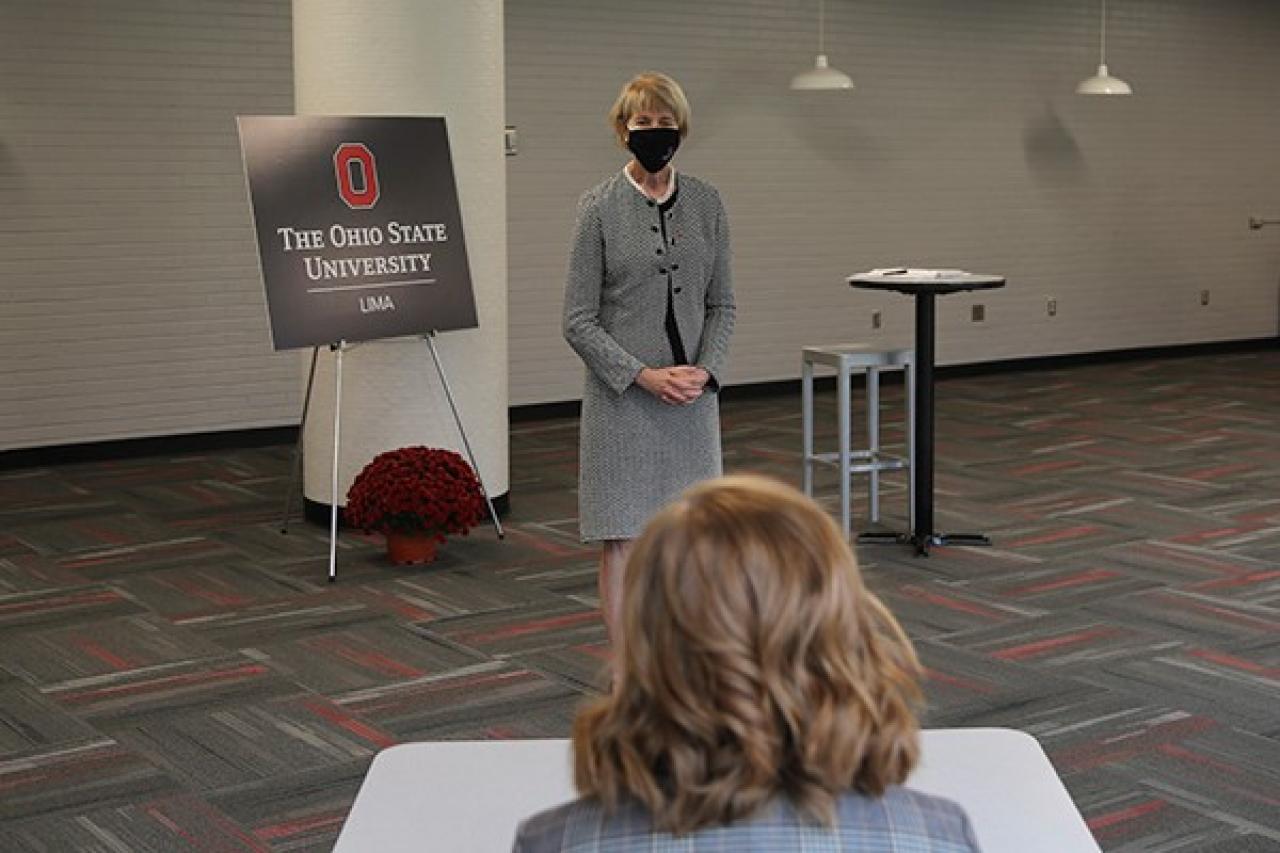 Dear Students, Faculty and Staff:
I want to express again my thanks and pride in our community as we collectively battle COVID-19. Your efforts to keep our campuses open this fall while learning, teaching, advancing research and scholarship, and caring for patients and their families have been extraordinary.
As students prepare to return home for the winter break, please remember the steps we are asking you to take. Get tested for COVID-19 early this week. If you obtain a negative result and are able to leave campus for the semester early, please do so and update your move-out time on the housing portal. If you need to stay on or off campus, plan to get tested again next week and self-quarantine until you get your results. For instructions on each, please refer to the message I sent on Sunday: https://go.osu.edu/campusdeparture.
We will continue our class-delivery approach as scheduled through November 25. We also will offer the first two weeks of spring semester classes (January 11-15 and 18-22) virtually. Our work is ongoing with state and local health officials to evaluate and adjust our plans as needed. We will keep the university community updated.
This Saturday, our football Buckeyes are scheduled to return to action against Indiana at noon. Once again, we strongly urge all students to "homegate." If you live on campus, cheer from your residence halls. If you live off campus, avoid gatherings and follow all COVID-19 protocols.
Wear a mask, stay 6 feet apart and practice good hygiene. Most of all, it is critically important to avoid large gatherings. Again, we want to finish the semester strong and keep our loved ones and ourselves healthy.
Please see this important message from Dr. Amy Fairchild, dean of our College of Public Health and head of our Comprehensive Monitoring Team: https://go.osu.edu/protectingyourlovedones.
Be smart so we can all be safe, Together As Buckeyes.
Racial justice, diversity and inclusion
The university's Task Force on Racism and Racial Inequities is continuing to collect data through focus groups with students, faculty and staff. These important discussions are also occurring across the university.
Associate Vice Provost for Diversity and Inclusion Dr. Jacquelyn C.A. Meshelemiah will moderate the final webinar in the four-part Ripe for Change: Conversations on Race in America series from 6 to 7 p.m. on Thursday. "An Anti-Racist Future: 'The Fierce Urgency of Now'" will feature Dr. Trevon Logan, Distinguished Professor of Economics; Ms. Nikki Baszynski, JD, adjunct professor in the Moritz College of Law and legal counsel at The Justice Collaborative; and Dr. Hasan Jeffries, associate professor in the Department of History. Register at the Office of Diversity and Inclusion (ODI) website. Our thanks go to ODI and the university's Alumni Association for presenting the series.
Discovery, learning and impact
We continue to work hard and advance our mission despite many challenges. Each day brings student success stories on our campuses. I'm pleased to share a few:
Ohio State's Rafael Quijada Landaverde, graduate associate and doctoral student in the Department of Agricultural Communication, Education and Leadership, was named

one of seven recipients of the international Kirchner Food Fellowship

. Nicole McMullen, an undergraduate in agriscience education, earned a top award at the

Region V Minorities in Agriculture, Natural Resources, and Related Sciences (MANRRS) Cluster

. She will represent Ohio State and Region V at the National MANRRS Conference this spring.




This is International Education Week, an annual celebration of the importance of global learning in higher education. Even with travel restrictions in place, Ohio State is helping students stay globally engaged. Doctoral students

Harold Wright

in the Department of Anthropology and

Jenn Marie Nunes

in the Department of East Asian Languages and Literatures have been awarded the Fulbright-Hays Doctoral Dissertation Research Abroad grant. These are two of only 90 such fellowships awarded nationwide.

And 64 Buckeyes have been awarded a Foreign Language and Area Studies (FLAS) fellowship to pursue foreign language fluency. Our East Asian Studies Center, Center for Latin American Studies and Center for Slavic and East European Studies awarded more than $1.5 million in

FLAS fellowship grants

this year to Ohio State students spanning 16 graduate programs and 13 undergraduate majors. This year's FLAS fellowships support the development of area studies knowledge and language fluency in 12 languages.

Our student team of

veteran community advocates

was recently recognized for its work helping students transition from military life to higher education. Members of The Ohio State University ROTC also performed a

jumping-jack and push-up challenge

for students in quarantine or isolation due to their exposure to or positive test for COVID-19. 
Looking ahead, BuckeyeThon students are once again raising funds to support children being treated in the Hematology, Oncology, Blood & Marrow Transplant Unit at Nationwide Children's Hospital -- with a Saturday, November 21, virtual dance marathon serving as the signature event. The goal this year is to raise $2 million to support children and families in our community. More information on how you can support the kids is available on the BuckeyeThon website.
University Task Force on Community Safety and Well-Being
Our safety and well-being task force engaged with representatives from the University District Organization (UDO), which was established in 1972 with the aim to improve off-campus life, support business efforts, and improve safety and security in the area. In 2015, UDO formed the University District Special Improvement District, which supports a range of services, including supplemental safety stewards to monitor the area. The task force is exploring ways to further partner and support these outreach efforts, recognizing that the safety and well-being of all community members depends on a multipronged approach.
The task force is in the process of finalizing a series of recommendations.
Campus visit
Finally, I was thrilled late last month to visit the Ohio State Lima campus (pictured above). I spent a beautiful fall morning and early afternoon with Dean and Director Dr. Tim A. Rehner as well as faculty, staff and student leaders. The campus is a wonderful example of our land-grant mission in action. I was particularly excited to talk with students about the new Bachelor of Science in Engineering Technology program, a student-led initiative to renovate Galvin Hall, and opportunities to enhance learning and career pathways through community partnerships.
Thank you, Buckeyes, for the outstanding contributions you continue to make throughout our state, nation and world. I look forward to sharing more soon.
Sincerely yours,
Kristina M. Johnson, PhD
President
---
COVID-19 Resources
Wellness Resources