The following message was shared with all Ohio State students on Wednesday, December 8, 2021. Click here to view the message sent to faculty and staff on December 10.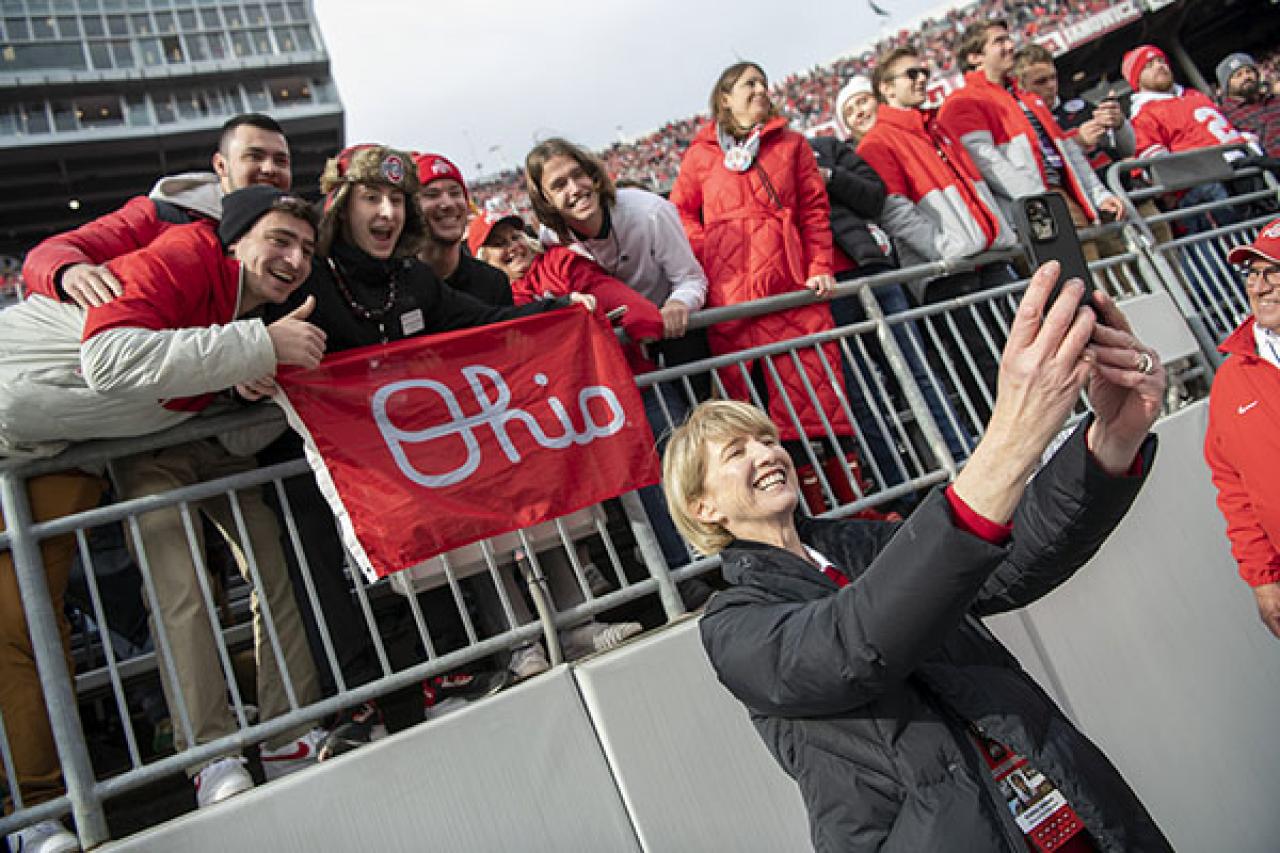 Dear Buckeyes,
Thank you for your tenacity and steadfast determination this semester! While we still face challenges related to the pandemic, you have persevered with great success. And thank you for getting Ohio State to such a high vaccination rate — more than 92% — well above the state average. I am proud Buckeyes are serving as a model to the nation and enhancing our status as one of the greatest institutions of higher learning in the world.
Celebrating success
We have much to celebrate, including multiple honors bestowed on Buckeyes this semester, the return to spectator sports and growing support for our major initiatives.
The myriad stories of student success this semester have been a great inspiration to me!
One of our recent alumni, and a current PhD candidate in our Department of History, John Bickers, received a National Academy of Sciences-Ford Foundation dissertation completion fellowship for 2021-22. John is among only six Ohio State doctoral students to have received this extremely competitive national fellowship. He is also one of a handful of Native Americans across all disciplines and institutions to have received a Ford Fellowship in the history of the grant.

Students in the Medical Scientist Training Program developed resource cards to help offer more compassionate care to survivors of sexual assault. I would like to offer my sincere thanks to College of Medicine students Kylene Daily, Jacelyn Greenwald and Sabrina Mackey-Alfonso, who led this initiative. It will lead to improved learner and provider knowledge and confidence, and ultimately better care for patients.
Safety
As you wrap up the semester, we want you to prepare your residences, particularly those located off campus, before you leave to spend time with friends and family.
The Office of Student Life has a full list of what to do ahead of leaving your residences unoccupied.
Some key tips to remember:
Pick up and install complimentary door and window alarms and light timers provided by Off-Campus and Commuter Student Engagement.

Close and lock all windows. This can help prevent break-ins and keep cold air from getting in.

Coordinate leaving with roommates, and make sure the last housemate to leave locks up and takes in any mail or packages.
COVID-19
If you have recently returned from international locations or traveled within the U.S. through major international travel hubs, I urge you to be tested at your earliest convenience. You are also encouraged to test before traveling for winter break and when you return to campus. More information about where and how to get a test is available on the Safe and Healthy Buckeyes website. Testing can provide individuals with peace of mind and help keep others healthy.
Making connections
One of the most meaningful things I get to do is connect with students. The Office Hours with the President program continues, and I encourage you to sign up for office hours.
I wish everyone the best of luck on finals!
As always, Go Buckeyes!
Sincerely yours,
Kristina M. Johnson, PhD
President
COVID-19 Resources
Wellness Resources