The following message was sent to all Ohio State students, faculty and staff on Tuesday, January 12, 2021.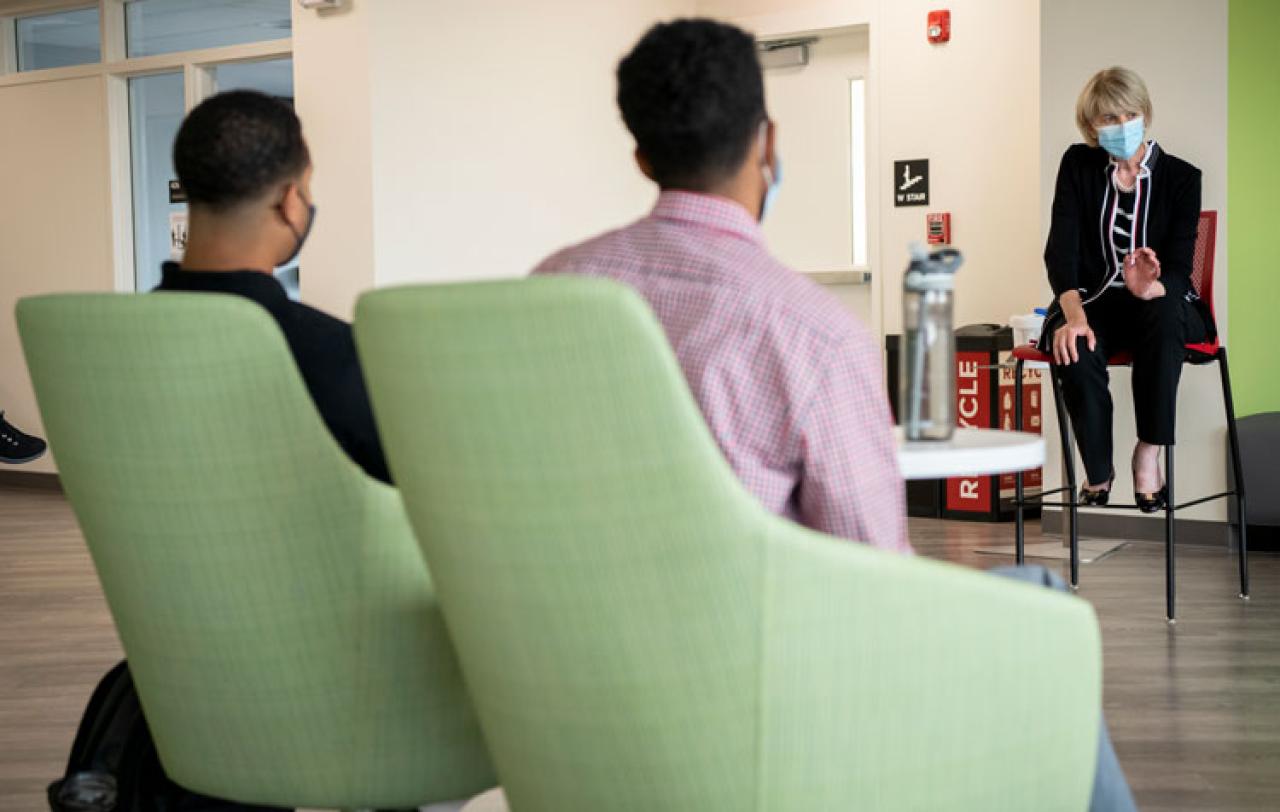 Dear Students, Faculty and Staff:
Last night, a remarkable football season came to an end in the national championship game. I couldn't be more proud of our team. Their accomplishments and perseverance throughout this most-challenging season are inspiring. Buckeye Nation is nothing if not resilient. We thank our team – the players, coaches and staff – who lifted us up, brought us together and gave us a lot to cheer about these past four months.
Spring classes are now underway and will be conducted virtually through January 22. Best of luck to all for a successful semester of learning and discovery. If you are new to the university, welcome. If this is your last semester as a student before graduation, I know you will finish strong among this outstanding community of scholars and supporters.
Let's continue to move forward and stay safe Together As Buckeyes. 
Below are several updates for the spring and beyond. 
Education for Citizenship
This is a difficult time for our community and our country. As a university, we continue to be horrified by the violent mob that terrorized our elected officials and our Capitol, a global symbol of democracy that was desecrated.
While it will take time to process the events of January 6, we are not powerless in the face of such direct challenges to America's "democratic experiment." I encourage each one of us to reaffirm and further advance the motto of our land-grant university: Education for Citizenship. 
To that end, I am announcing today the "Education for Citizenship Discussion Series," evening conversations on the state of our democracy that will utilize the scholarship and research of our outstanding faculty and staff. The first four events are listed below, and more will be announced soon. 
Dr. Moore in the Office of Diversity and Inclusion partnered with the Office of Institutional Equity last year to establish the Education for Citizenship initiative to bring people together and give them the resources to have productive conversations on challenging issues. As an institution of higher learning, we know that education is a critical component to combating misinformation and intolerance. As details about the dialogue series are finalized, they will be available on the Education for Citizenship page, along with a toolkit with resources on how to have productive conversations on difficult topics.
COVID-19: return to campus
Student move-in on the Columbus campus is scheduled to begin January 18, with in-person classes currently slated to resume on January 25. Our COVID-19 Implementation Response Team (IRT) continues to monitor the pandemic and the latest guidance from health authorities with regard to testing, tracing and vaccination. We will make adjustments to our spring and summer academic plans as needed. To review our protocols:
We will keep you informed of any changes or modifications to our plans. Our flexibility last semester was one of the keys to our success. Thank you for your cooperation as we all work together to fight the pandemic.
Our COVID-19 dashboard will also continue to be updated with the latest available data.
COVID-19: vaccination
Starting January 19, the Wexner Medical Center will utilize the Schottenstein Center as a mass COVID-19 vaccination site for select patients and, later, the general public. The medical center estimates that it can provide over 3,000 vaccines per day through this site. Appointments are required for all vaccinations.
Consistent with the state's approach to Group 1B priority populations, the medical center will start vaccinating its patients over age 80 at the Schottenstein Center. Other 1B populations will be vaccinated in the future. Read more here.
Discovery, learning and impact
Ohio State's Department of French and Italian has been named a Center of Excellence by the Cultural Services of the French Embassy in the United States, joining just 22 universities nationally. The designation provides funding and project-based support for teaching programs, research partnerships and more.
Four students – engineering undergraduates Caleb Buaful, Jacob Buaful Jr. and Anita Nti, and doctoral student Danny Freudiger – have developed a battery pack, delivery system and mobile app to replace gas generators as a portable power source that is more sustainable. Their startup company, Electrion, was inspired by observing Buckeye tailgates during the 2019 season. It's always exciting to see our students helping to connect research and entrepreneurship. I was also pleased to read about the Best of Student Startups (BOSS), a semester-long competition hosted by the Tim and Kathleen Keenan Center for Entrepreneurship. Alex Zorniger, a second-year MBA student at Fisher College of Business, took home first place for his idea, Transfer Base. The startup seeks to provide tools to help technology-based organizations discover and efficiently access university research.
Congratulations to five Ohio State scholars who have been named among the "1,000 inspiring Black scientists in America" by Cell Mentor, an online resource for researchers. Included on the list of honorees are Dr. Darryl B. Hood, associate professor, public health; Dr. Ray Bignall II, clinical assistant professor, pediatrics; Dr. Aeriel Leonard, assistant professor, materials science and engineering; Dr. Joshua Joseph, assistant professor, endocrinology, diabetes and metabolism; and Dr. Ranthony A.C. Edmonds, postdoctoral scholar, mathematics.
Dr. David Weinberg, Distinguished University Professor of the Department of Astronomy, has won the 2021 Dannie Heineman Prize for Astrophysics. He is the second Ohio State faculty member in two years to win the award. Dr. Christopher Kochanek, professor and Ohio Eminent Scholar in the Department of Astronomy, was awarded the Heineman Prize in 2020.
The Office of Research and The Women's Place will hold a free virtual screening of and discussion about the film "Picture a Scientist." The film chronicles several scholars who are writing a new chapter for women scientists. A discussion will feature a panel of five Ohio State faculty from a range of disciplines. Register by January 19. The film will be available for viewing beginning January 22 with the discussion taking place January 27 from noon to 1 p.m.
Finally, we will observe and celebrate Martin Luther King Jr. Day on Monday, January 18. No classes will be held that day in recognition of the iconic civil rights leader.
I invite you to join fellow Buckeyes in honoring Dr. King's legacy by participating in events and activities during a week-long program that will celebrate his legacy while incorporating the importance of activism in our society today. A full list of events is available here. Dr. King's example in contributing to the betterment of our democracy and our world is more important now than ever.
I look forward to sharing more soon.
Sincerely yours,
Kristina M. Johnson, PhD
President
---
COVID-19 Resources
Wellness Resources