Kristina M. Johnson, PhD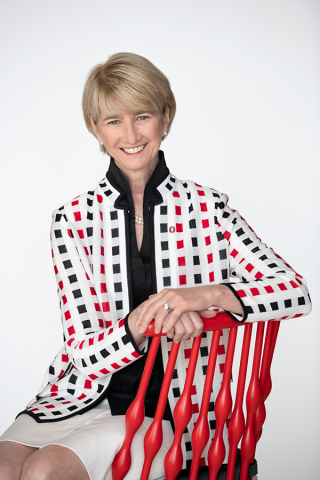 Kristina M. Johnson is many things: a trailblazer in the classroom, the boardroom and the research lab; a dedicated public servant who served at the highest levels of government; a survivor of Hodgkin's lymphoma; and a role model and advocate for women in STEM.
Most of all, Dr. Johnson is an innovator and an inventor, a leader who is constantly seeking new solutions to the most seemingly intractable challenges.
Since joining Ohio State as the school's 16th president in fall 2020, Dr. Johnson has been focused on enhancing the university's excellence in five strategic areas: academics, research, service and clinical care, talent and culture, and operations. This ambitious agenda includes initiatives to double research investment, increase the number of faculty and boost public safety funding while creating pathways over the next decade to enable undergraduate students to earn their degrees debt-free.
Before she set foot on campus, Dr. Johnson already had long-standing ties to Ohio State. Her paternal grandfather, Charles Johnson, was a member of the Class of 1896. He played right guard on the football team and, as family lore has it, met Dr. Johnson's grandmother on the Columbus campus. He went on to work as an engineer with electrical industry pioneer George Westinghouse.
Though she never met her grandfather, who died in the flu pandemic of the early 1900s, Dr. Johnson followed in his footsteps, departing her hometown of Denver, Colorado, to pursue her bachelor's, master's and doctoral degrees in electrical engineering at Stanford University.
Even in junior high and high school, Dr. Johnson was a leader. She won city, state and Air Force science fair awards. On the lacrosse field, she competed with the boys because a girls' team did not exist. Where opportunities were lacking, Dr. Johnson created them. She founded the women's lacrosse team at Stanford, where she also played varsity field hockey and tried out for the U.S. Team in 1978.
Dr. Johnson's time as an athlete was cut short when she was diagnosed with cancer in 1979. She defended her PhD dissertation after months of radiation and headed to Ireland for a postdoctoral fellowship at Trinity College. She returned home when she was hired as an assistant professor of electrical and computer engineering at the University of Colorado Boulder.
In Boulder, Dr. Johnson's research in optoelectronics paved the way for the creation of several companies. One, ColorLink, pioneered new technology that relaunched the 3D movie industry; it also had a life-saving healthcare application, improving processes for mammograms and cervical-cancer screenings. This earned Dr. Johnson a place in the National Inventors Hall of Fame, the National Academy of Engineering, and the John Fritz medal, widely regarded as the highest honor of the engineering societies.
Dr. Johnson's academic star continued to rise. In 1999, she was named dean of Duke University's Pratt School of Engineering, where undergraduate enrollment increased 20% under her leadership and, in 2007, became the senior vice president for academic affairs and provost at Johns Hopkins University. In 2009, she was selected by President Barack Obama to serve as undersecretary of energy in the U.S. Department of Energy. She was confirmed to the post by unanimous consent of the U.S. Senate. In the Obama administration, Dr. Johnson oversaw a $10.5 billion energy and environmental portfolio. She helped the White House pinpoint the magnitude of the Deepwater Horizon spill — the largest marine oil spill in U.S. history — drawing on her work on a long-ago high school science project to do so.
Dr. Johnson holds 118 U.S. and international patents. Her entrepreneurial spirit led her to found the clean energy hydroelectric generation company Cube Hydro Partners, which was purchased by Ontario Power Generation in 2019.
In April 2017, Johnson returned to academia as the 13th chancellor of the State University of New York, the largest comprehensive system of public higher education in the U.S. Dr. Johnson's accomplishments during her tenure at SUNY include increasing research expenditures by $100 million annually, developing a roadmap for clean energy goals and establishing groundbreaking new collaborations with businesses like IBM.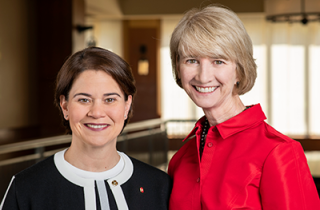 Over the span of her professional career, Dr. Johnson has received a number of awards and recognitions. She was awarded the inaugural IEEE Mildred Dresselhaus medal in 2021. In 2010, she was given the Woman of Vision Award for Leadership by the Anita Borg Institute for Women and Technology. In 2004, she received the Society of Women Engineers Lifetime Achievement Award. She is also the recipient of five honorary doctoral degrees, from the University of Alabama in Huntsville; Tufts University; Trinity College, Dublin; McGill University; and the National University of Ireland, Galway.
Today, Dr. Johnson, along with her wife, Veronica Meinhard, a higher education philanthropy and administration expert, is charting a new course, one grounded in fulfilling the university's historic land-grant mission while elevating Ohio State to new heights of academic excellence, research, equity and service.