President Drake gave the following speech in front of members of The 50 Club of Cleveland on Monday, March 6, 2017.
Good afternoon, everyone.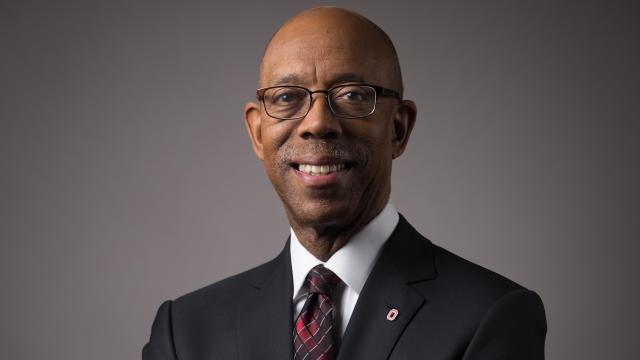 Thanks to everyone for being here — and thanks to The 50 Club of Cleveland.
It's great to be back here. Cleveland is home to many Ohio State alumni and friends, including some of you here today, as well as members of our Alumni Club of Greater Cleveland.
My wife, Brenda, who is here today, and I have had the chance to experience some wonderful highlights of the city during our visits here, including the Cleveland Orchestra and the Rock and Roll Hall of Fame.
And I look forward to coming back this summer as part of our annual Ohio State summer tours. Last year we visited the Akron and Youngstown area, as well as Toledo and southwestern Ohio.
This year, we plan to visit alumni, friends and businesses along Ohio's North Coast.
As we move through towns such as Medina, Urbana, Canton and Youngstown— where my mother was raised — we feel quite viscerally what it means to be a Buckeye.
Ohio State has six campuses around Ohio — in Columbus, Lima, Mansfield, Marion, Newark and Wooster — but we have a strong presence and commitment to all areas around the state, including Cleveland and the surrounding region.
Ohio State scientists are working to improve water quality in Lake Erie, Grand Lake St. Mary's and elsewhere around the state through our Field to Faucet program. At Stone Lab, our island campus near Sandusky, our faculty and students are conducting research to protect Lake Erie's coastline, fisheries and water quality. Through our extension work in Cuyahoga County, we are providing resources and education to support community gardening, community development and agricultural businesses.
As a land-grant university, Ohio State is committed to all corners and 88 counties around the state. Our founding mission is to offer higher education to the sons and daughters of this state and to share the scholarship of our research to elevate quality of life for Ohio and beyond.
And that mission has never been more important than it is today.
In Ohio, we are blessed to have an abundance of excellent educational choices for students throughout the state.
So why is that important — for you or me or any of us in this room?
My favorite answer to this is a quote from 20th century educational icon Clark Kerr who said famously, "New knowledge … makes the world go 'round, and the university is still its main source."
For so many, a college education is a bridge to the middle class and beyond, as well as a bridge to a better quality of life.
Our universities also play an important role in building the state's innovation capacity and ability to compete globally for investment, talent and jobs. According to some studies, by 2025, two-thirds of Ohio jobs will require postsecondary education.
In addition to preparing tomorrow's teachers, scientists, artists and social workers – many of whom will graduate and live and work in Ohio – our universities are sharing knowledge around the state and around the world; building partnerships in manufacturing, technology and business; and uplifting communities in myriad ways.
There is a direct correlation between what we do in higher education and the quality of people's lives. If we think of places around the world, and particularly in this country, the most successful, innovative, entrepreneurial, healthy regions center around our great universities.
In ancient times, great cities grew up near shipping lanes or the confluence of rivers; in medieval Europe, around cathedrals; in the 19th and early 20th century, around factories — but in our modern era, great cities grow around universities. We have some great cities around the state, and we want them to be even better. And the ideas, people, innovations and spirit attracted to these cities by our universities illuminate an important way forward for us all.
Access to higher education matters deeply to the broader community.
It matters to employers who hire our graduates because they are ready to make an immediate impact in the workforce and in their communities.
It matters to businesses, government and organizations that rely on our research and expertise to grow the economy and elevate the quality of life in our communities.
It matters to individuals and families who depend on our health care facilities for medical care, scientific breakthroughs and patient safety.
Our work — the work that happens at Ohio State and at other universities every day — is meaningful, impactful and significant. It makes a difference. It touches lives.
Many of our Ohio State students first attend one of our campuses around the state before completing their degree at our Columbus campus. Our regional campuses are smaller, less expensive and are the doorways to access for many students.
Since 2011, our university has had a successful partnership with Columbus State Community College, which guarantees admission to Ohio State for associate degree holders from Columbus State.
Providing access to an affordable and excellent education for more students is an important mission that Ohio State shares with our higher education partners around the country and the state, including our colleagues here today from higher institutions in northeast Ohio.
One of the challenges for Ohio State and for higher education more broadly is to balance affordability and excellence during a time of funding constraints and rising costs.
Ohio State continues to be a great educational value – rated 26th nationally among public universities for the best value (Kiplinger Personal Finance in 2014) – and we've implemented a number of strategies and programs to assist us in keeping it that way, such as Young Scholars, our LASER program for Latino students and the Bell National Resource Center.
But to provide access, affordability and excellence, we know we must do more. We want to be affordable, we want to be efficient — but as a university, we have to be the very best university we can be.
That means elevating and lifting our excellence and continuing to invest in the outstanding faculty, the outstanding research and the outstanding teaching that make us such a desirable university.
Excellence requires investment.
We need our most important partners to share our vision that higher education uplifts individual lives, communities, the future of Ohio and beyond.
We need our university leaders to maximize efficiencies and creative resource-generation to invest in our excellence.
We need our philanthropic community to know how very crucial their giving is to improving lives.
And we need our legislative partners to view our collective mission as critical to the health and well-being of the state.
Higher education institutions across the state and across the country are working hard to find ways to make a college education more affordable, while maintaining its excellence and relevance.
Along with some of our higher education partners here today, Ohio State is a member of the Higher Education Compact of Greater Cleveland, working collectively to help more Cleveland residents get to college and graduate.
Ohio State is also a member of the Inter-University Council of Ohio (IUC), which represents Ohio's 14 public universities. Together, we are looking for ways to make our institutions more efficient and affordable for the more than 330,000 students attending our member institutions without sacrificing quality.
We're working on these issues with our national peers — and we also work hard on our campuses to push forward our vision for the future: that our university is affordable, provides broad access and is evermore excellent.
In December, for example, Ohio State was proud to be among 30 top colleges and universities to announce a national coalition to significantly increase the number of talented low- and moderate-income students on our college campuses. We know that we admit many more students from the upper half of the income distribution, and we believe that talent is distributed much more evenly than that.
Collectively, the American Talent Initiative, of which we are a founding member, seeks to increase the number of low-income students enrolled on our campuses by 50,000 over the next decade. This initiative is one way to create more pathways to the American Dream.
The member universities are studying what works and looking to implement and scale solutions across institutions. We are also committed to exploring and sharing innovative ways to better support students once they enroll.
The future of our communities and our country depends on our ability to provide significantly greater access to an excellent education to young Americans across zip codes and income brackets.
We also work closely with the Association of American Universities, Association of Public and Land-Grant Universities, University Innovation Alliance, NCAA and more — giving Ohio State a unique opportunity to help set the course for solving the most important national issues of the day.
By 2020, the university has pledged to identify $200 million in efficiency savings and another $200 million in innovative funding to lower the cost and improve the value of an Ohio State education. Of that $400 million, $100 million will go directly to affordability grants for low- and middle-income students in Ohio.
Last year, we began this work and allocated $15 million in new affordability grants to more than 12,000 low- and middle-income Ohio
This year, we provided an additional $20 million in grants to 15,700 students —including 1,142 students from Cuyahoga County and 3,000 Buckeyes on our regional campuses around the state.
In addition, the university approved in June a comprehensive cost freeze for Ohio undergraduate students — the first of its kind in at least 40 years — that held flat tuition, fees and room and board.
This is great, but tuition is only one variable in the affordability equation. It often gets the most attention because it's the most visible and easiest to understand.
Another significant way to make college more affordable while improving the overall student experience is to make a student's path to graduation as efficient and effective as possible. We are doing several things, today, to help improve the quality and value of our student experience.
On August 1, we implemented a predictive-analytics advising tool on our Newark campus. The new tool will collect real data on student performance — what is working and what is not — so advisers will know with more precision when and how to provide support. In December, academic advisors across all disciplines and campuses began using this data-driven system.
And, this fall, we launched the University Institute for Teaching and Learning — the first of its kind on our campus — to provide mentorship and research and, we are confident, create national best practices in the classroom. As our faculty share successful teaching techniques and modern methods, we enhance the overall student experience and tools at our disposal to educate tomorrow's leaders.
Here in Cleveland and the surrounding areas, we are working hard to keep the pathways to higher education open. For nearly three decades, our Young Scholars Program has been supporting academically talented first generation college students in nine of Ohio's largest urban school districts, with about 20 percent of the students coming from the Cuyahoga County area.
One of the best parts of my job is watching the work we do on our campuses translate into meaningful impacts in the communities we serve. Community engagement is at the heart of our founding purpose. If we are not doing our very best — if we are not reaching our full potential as a center for education and ideas — then quality of life suffers in the state, region and across the country and the world.
Over the past year, the importance of community partnerships garnered national attention when Columbus was named the nation's Smart City over 77 competing cities to receive $140 million in public and private grants and matching funds. University scientists and facilities were important to that success, and will continue to help lead the effort to transform central Ohio into the nation's premier transportation innovation region.
We are supporting our incredible faculty in outstanding scholarship and groundbreaking research across the disciplines. And we're putting that new knowledge to work. We're investing in solutions to food insecurity across all disciplinary fronts to address hunger in our own communities and beyond — through Ohio State scholarship and outreach, our Extension programs and community partners.
We're making incredible advancements in medicine. In the fall, we opened our Brain and Spine Hospital and the Jameson Crane Sports Medicine Institute. Our partnership with Battelle developed Neurobridge technology that, for the first time in medical history, enabled a paralyzed man to regain movement using his thoughts.
But we're not done. There is much more we can achieve together – to find new ways to treat cancer, grow safer food, end hunger, protect our drinking water, strengthen the work force and produce more college graduates from Akron to Zanesville.
Finally, I'll just say that with opportunity comes responsibility, especially for those of us in leadership positions – whether at a university, business or in the community.
I recently attended a mid-career leadership event, where someone asked me to reflect on leadership, especially in uncertain times. One of the things I have found most important is to understand and stay true to one's values ­­— particularly integrity, compassion, consistency and truth.
Leadership often involves navigating one's way through an immense amount of shifting and imperfect information without a guide. This information is often filtered through other lenses before it reaches your desk, when you're asked to make a meaningful decision that affects many other people.
Relying on something that is largely immutable — like a set of values — is incredibly helpful.
Historically, our higher education institutions have played an important role in creating the knowledge and scientific ideas that have kept our country at the forefront of discovery and ingenuity. At our core, that is what we do and how we make a difference.
We will continue to create and share knowledge that advances the human condition and illuminates a path forward. But, at the end of the day, all of us in this room and across the state must row together to chart a collective course – for our communities, for Ohio and for the success of our nation.
View the archive of President Drake's speeches and statements.